CISRI TEAM & GOVERNANCE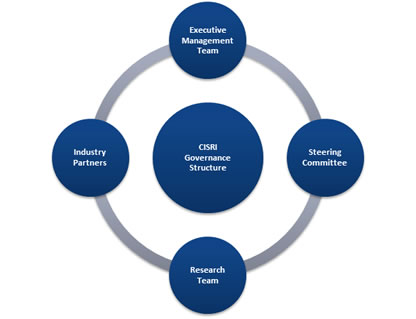 CISRI seeks to expand the horizons of information science through collaborative research and direct theoretical studies toward practical solutions. In order to achieve this goal, its governing structure is comprised of prominent minds from academic, industrial and public institutions.
CISRI's governance provides the diverse leadership, extensive resources and access to industry needed to stay at the forefront of cutting-edge, innovative information science research.

CISRI's governing body consists of an executive management team, a steering committee and our research team. Each of these groups contribute their own unique expertise to CISRI governance, providing the Institute with the collaborative leadership needed to face complex challenges posed by today's information economy.
1.STEERING COMMITEE
The Steering Committee is a decision-making body that oversees all projects and directs the Institute by establishing goals, shaping research strategies and maintaining connections with the scientific community. They play a large role in shaping and guiding the overall vision and policy directions of CISRI. Members of the Steering Committee have both internal and external roles and responsibilities, including:
-Oversight of the direction and management of CISRI: Steering Committee members act as advisors for the long-term planning of CISRI, including developing strategic directions, goals and policies for CISRI; evaluating overall performance with respect to the achievement of CISRI objectives; and playing an oversight role with respect to funding allocation within the Institute.
-Oversight of research undertaken by CISRI researchers: Steering Committee members review CISRI research projects and programs in order to evaluate their consistency with the Institute's mission and objectives.
-Liaison with the scientific community: CISRI Steering Committee members act as spokespeople and ambassadors for the Institute, promote relationships between CISRI and other organizations and may also take some role in fundraising activities.
The Steering Committee is comprised of leaders from industry, academia and various public institutions. This range of backgrounds provides the Committee with valuable insight into the relationship between information and complex organizations. The diversity within the Steering Committee makes it an apt director for interdisciplinary research.  Members from different fields will keep CISRI up-to-date with trends and developments in research, their respective institutions as well as the regulatory and economic contexts in which they operate.  Members are expected to meet biannually in Ottawa, and are not remunerated for their roles.
Steering Commitee members (all members to be announced shortly)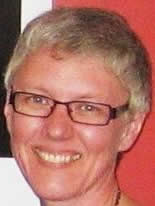 -Lynne Bowker, Ph.D. is the Director of the School of Information Studies at the University of Ottawa, where she currently teaches and conducts research in the area of knowledge organization. She earned a PhD in Language Engineering from the University of Manchester Institute of Science and Technology in the United Kingdom, and she has over 15 years of experience working as a professor and researcher in the fields of translation, computational linguistics and information studies at universities in both Europe and North America. She has published widely in these fields, and led several major research projects funded by the Social Sciences and Humanities Research Council.
-Mark Forbes is currently the Associate Vice-President (Research) of Carleton University, following two years as Associate Dean (Research and Graduate Affairs) in the Faculty of Science at Carleton University. His overarching mandate is to foster excellence in research and increase the level of research activity and impact. He was recently a member of one of four panels of the Ontario Council of Graduate Studies oversight on quality of graduate programs and also co-chair of the Natural Science and Engineering Research Council's Grant Selection Committee 18. He is also a founding council member for the newly formed Canadian Society of Ecology and Evolution (CSEE) and represents CSEE at the Partnership Group for Science and Engineering (PaGSE).
Forbes attained the Canada Research Chair in Ecological Parasitology and Wildlife Conservation, and has remained active in research. He has spent the past ten years asking questions about what makes some individuals resistant to parasites and others susceptible, and what factors favour use of many versus few host species, by parasites and pathogens.
2.EXECUTIVE MANAGEMENT
CISRI is led by the Executive Management team, the primary governing body that implements management decisions, directs the CISRI toward its goals (as outlined by the Steering Committee) and fulfills most administrative functions for the Institute. Executive Management is led by its President, who also serves as the Chair of the Steering Committee.

Members of the Executive Management team are tasked with day-to-day administrative responsibilities related to strategic planning and communication. They act as representatives for the Institute, dealing with incoming and outgoing communications with participating researchers, industry partners and research sponsors. Executive Management also serves as a liaison between different research streams and projects, connecting relevant and interested parties to ensure complimentary and mutually-beneficial research. As such, its members are integral in promoting and facilitating collaboration.

Members of the Executive Management team also direct the internal resources of the Institute. This includes managing the availability of physical resources such as office space, computers and servers, as well as financial resources.

Executive Management plays a large role in assuring that the research and actions of CISRI adhere to the vision statements established by the Steering Committee (outlined below). Executive Management regularly assesses the progress of the Institute through performance reports and internal reviews of its research projects, which are presented to the Steering Committee at their biannual meetings.
Executive management
Yves Marleau is President of Cogniva Information Solutions. He has led many large-scale information architecture projects both in Canada and internationally. Mr. Marleau holds a B.A. in Communications (Ottawa), a BSc. in Computer Science (Université du Quebec) and is currently completing a Master's degree in Communications (Ottawa).

Mr. Marleau is also president of the board of directors for the Language Technology Research Centre. Having been active in the field of information science for over 25 years, Mr. Marleau is an influential speaker who has helped organizations improve their information and knowledge practices. At CISRI, Yves is President of the Institute and head of the Executive Management team.
3. RESEARCH TEAM
The research team is supervised by three scientific directors associated to each of the CISRI research streams. Within its research streams, CISRI will carry out both specific research projects and more general research programs. Researchers associated directly with CISRI are expected to contribute to these research projects and programs and participate in producing publications related to these activities. Researchers may also participate in creating and organizing research community events, including seminars, workshops and conferences.

Researchers who are external to CISRI but associated with the institute may choose to invite CISRI researchers to participate in their research projects or ask CISRI to share and contribute resources or data for their research projects. Researchers associated with CISRI may also receive research briefings regarding what CISRI is working on and participate in a more general information exchange. Specific CISRI researcher categories include:
CISRI Researchers: Researchers who are directly connected with CISRI and who are managing CISRI research projects and other CISRI research activities.
CISRI Research Associates: Researchers associated with other institutions who are actively collaborating with CISRI researchers on CISRI research projects and activities, and who may have joint funding with CISRI.
CISRI Adjunct Researchers: Researchers who are not directly involved in CISRI research activities but are participating in related research and communicate with the CISRI about their own and CISRI's research activities.
CISRI Student Researchers: Students who are being supervised by CISRI researchers while participating in CISRI research projects and activities.
Scientific directors


Inge Alberts, Ph.D. is Cogniva Information Solution's Director of Research and Innovation in Information Management as well as an Adjunct Professor with the School of Information Studies at the University of Ottawa. Her research focuses on personal information management and textual practices, recordkeeping in public administrations, genre theory and organizational semiotics.

Inge has participated in several research projects with organizations such as the University of Montreal, the Government of Canada, the Government of Scotland and the Museum of Contemporary Art of Montreal. She has also acted as a consultant for various public administrations, including the International Monetary Fund, the Council of Europe and the Government of Canada.

Since the completion of a Ph.D. in Information Science, Inge has combined past academic research with her private sector consultancy. This experience has reinforced her belief in the need to further connect research with the realities of the business community. At CISRI, Inge is Scientific Director of the 'Organizational Information Compliance' research stream.



Craig Eby is Director of Research & Development for Cogniva Information Solutions. He is also the lead researcher and developer for Cogniva's flagship software solution, ISIS (Integrated Semantic Information Service). Craig applies his research background from cognitive science to the problems surrounding the creation of semantic technologies that augment the abilities of individuals as they use information systems.
During his time at Cogniva, Craig has helped to build a quality research network, including professors and graduate students from a number of disciplines, culminating in the creation of CISRI. At CISRI, Craig is Scientific Director of the 'Semantic Technologies' research stream.